Late settling its players, Malaysian club appeals FIFA for their promotion slot
Author: Amelia London
Date: 31/07/2019
Penang FA has stated that it will file a lawsuit against FIFA after the sanction from the world football management agency prevented them from being promoted to the Malaysian first division.
Penang secured a place in Malaysia Super League after promoting from the second-tier Premier League earlier this month. However, they were deducted 6 points by FIFA and lost the highest tournament in Malaysia.
The Malaysian Football Federation (FAM) said it had deducted six points from the club under FIFA's penalty after Penang failed to meet the FIFA Disciplinary Committee's directive in settling Brazil's former Reinaldo Lobo defender.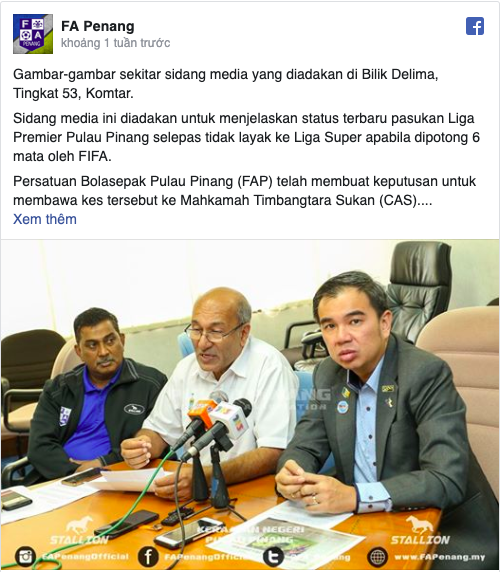 Penang's leadership paid a sum of money to the Brazilian striker. However, the confusion about the exchange rate and the delay in the banking process forced FIFA to launch the penalty and FAM called on the world football management agency to cancel the penalty.
However, Penang FA reaffirmed that it would appeal the FIFA decision on the Court of Arbitration for Sport (CAS) in Lausanne, according to the New Straits Times.
However, Penang plans to spend 11,000 euros in legal fees and 1,500 euros to file. This makes their fans wonder if this is necessary to the second tier club.
Penang FA chairman Amar Pritpal Abdullah said they would still fight against FIFA's decision legally although their fans warned that the club should not do so.