Coach Chung Hae-seong put his faith in Cong Phuong
Author: Amelia
10:00 | 15/08/2020
Although he owns 2 high-class foreign strikers, Chung Hae-seong said he still devotes his faith in Cong Phuong and domestic players on the team's attackers.
After 2 weeks of breaking up, coach Chung Hae-seong officially returned to lead the Ho Chi Minh club for the rest of the V-League 2020. This made the fans extremely surprised.
In this comeback, Chung has in hand very quality additions, especially in attack with the appearance of two Costa Rican strikers Jose Guillermo Ortiz and Ariel Rodriguez.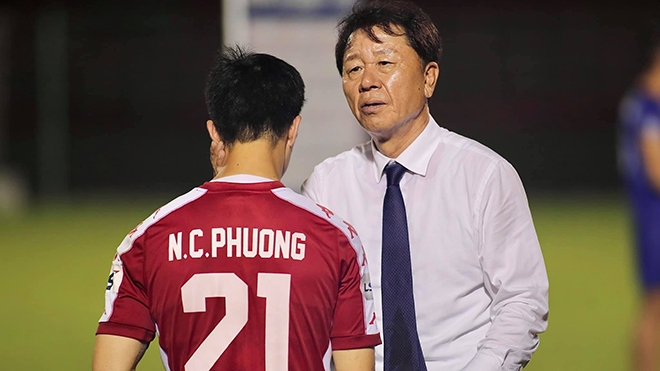 However, despite owning 2 high-class foreign strikers, Chung Hae-seong still devotes his faith to domestic players on the offensive wall of the HCMC club. Sharing after the August 13 training session, Chung said:
"This is my first training on-field session with two Costa Rican players. We work out so I can't judge their expertise yet. I know more about Ariel than I do about Ortiz. I will observe more to assess and find out the strengths of these two players.
They are not tall so I guess their strengths are strength, mobility, and speed. But that may also be an incorrect statement. I will check and meet with the assistants to find out how to use both. Currently, we have many plans to attack such as Phi Son, Xuan Nam, Cong Phuong."
Also in the first training session after returning, Coach Chung Hae Seong decided to change the staff of the HCMC club. The old members including captain Do Van Thuan, 3 deputy captains Nguyen Huu Tuan, Nguyen Hoang Thinh, Tran Phi Son will be replaced by new captain Sam Ngoc Duc. The vice captain position is still assumed by Nguyen Hoang Thinh.
Currently, Ho Chi Minh City is ranked 5th on the V-League 2020 table and is 6 points behind the top team Saigon FC. Chung Hae-seong will have to make a lot of effort if he wants to fulfill his championship goal this season.