Vietnam Golden Ball 2019 might belong to Hung Dung
Author: Amelia
16:00 | 26/05/2020
With tireless contributions to Vietnamese football in the past year, the title Golden Ball is likely to belong  to midfielder Do Hung Dung.
Vietnam Golden Ball 2019 award will take place tonight. This will be the time to find out the best player of Vietnamese football in 2019.
The five nominees are all players who have excellent performance and made great contributions to Vietnamese football in 2019: Nguyen Van Quyet, Nguyen Trong Hoang, Do Hung Dung, Doan Van Hau and Nguyen Quang Hai.
Compared to the competitors in the shortlist for the Vietnam Golden Ball candidate 2019, Hung Dung clearly dominates. Hung Dung's influence is evident in national teams and club levels. Hung Dung always completes his missions in any squad, any tournament. He is also one of the most-capped players in the past year.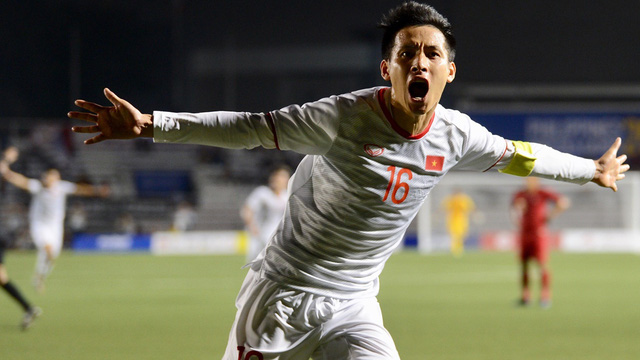 The Hanoi FC midfielder is one of the two over-age players trusted by Park Hang-seo at the last SEA Games 30. In the Philippines, Hung Dung did not disappoint Park when he excelled in the role of  skipper, making a great contribution to help the home team for the first time in the history of winning the SEA Games Gold Medal in 60 years.
At Vietnam, Hung Dung is also an indispensable factor in the tactical scheme of Park Hang-seo at the Asian Cup 2019 or the World Cup qualifiers of 2022 in Asia. The intelligence in the play of the midfielder has helped the midfield become solid but equally versatile.
And at the club level, Hung Dung plays the role of a silent hero, a solid "back" for Quang Hai or Van Quyet to shine. This is the decisive factor to help Hanoi FC win the V.League 2019 championship as well as reach the inter-regional final of the AFC Cup 2019.
Meanwhile, Hung Dung's No. 1 opponent, Quang Hai, is out of breath at the end of the year. The No. 1 star of Vietnamese football has suffered injuries and missed important matches at the last SEA Games 30. This will be a disadvantage for Hai to compete with his brother in Hanoi FC.
With all these advantages and important contributions, many people believe that the title of the Golden Ball 2019 will be hard to escape from Do Hung Dung.