Coach Philippe Troussier pointed out the ideal player of U19 Vietnam
Author: Amelia
14:18 | 29/06/2020
The impressive performance of Vo Nguyen Hoang helped this player to be selected as a symbol of U19 Vietnam by Philippe Troussier.
The final round of the National U19 2020 has ended with the championship belonging to the U19 PVF. U19 Vietnam coach Philippe Troussier was pleased with the performance of the two teams in the final.
The French leader also pointed out the player who impressed him the most in this year's tournament. Coach Philippe Troussier said: "I have followed Vo Nguyen Hoang. For me, he is the best player of his age. Hoang's talent and qualifications were confirmed from the year before he was called up to the U22 team to prepare for SEA Games 30 as well as U19 Vietnam tournaments. Nguyen Hoang is a striker full of strength and desire. I consider him a symbol of aspiration, of the goals we look forward to in the future "- according to Zing.
In 2017, Vo Nguyen Hoang shone at the international friendly four-star tournament on the occasion of the opening of PVF Center in Hung Yen. The player's performance caught the eye of Stoke City coach.
Nguyen Hoang also won the title of the best player in the U17 national tournament in 2018 and 2019. Dong Thap striker is a familiar name of many Vietnamese teams from U15, U16, U18, U19.
He was called by Park Hang-seo to gather with the seniors at U22 Vietnam to prepare for the SEA Games 30 in 2019.
Revealing more about the preparation of U19 Vietnam, coach Philippe Troussier followed 600 players and selected 100 people born between 2001-2004. He will continue to select from that list to summon 60-80 players with basic qualities to continue testing, with a long-term goal towards Olympic 2024.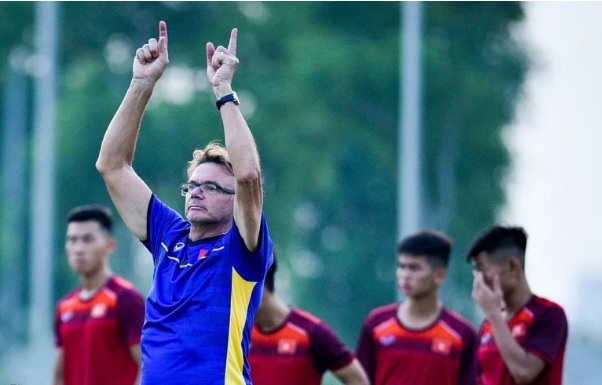 In the immediate future, coach Philippe Troussier and his players are the U19 Asian Finals 2020, taking place from October 14 to October 31 in Uzbekistan. U19 Vietnam aims to reach the semi-finals, thereby winning a ticket to the U20 World Cup 2021 finals in Indonesia.
16 teams for the final round were divided into 4 groups. At the end of the group stage, the top 2 teams in each group will be selected to advance to the quarterfinals. The top 4 best teams of the AFC U19 Championship 2020 finals will join Indonesia in the U20 World Cup 2021. In the case of Indonesia reaching the semi-finals, the losing teams in the quarterfinals will play the play-off to compete for the remaining slot.