Van Quyet missed a penalty, Hanoi lost at home
Author: Amelia
22:30 | 30/06/2020
Hanoi was disappointed when they let the underestimated Saigon take 3 points on Hang Day stadium.
Welcoming Saigon with the absence of players, Hanoi faced many difficulties in the attacks. They showed a lack of ideas when there was no conductor Quang Hai on the field.
However, with the remaining attacking players, Hanoi still chose the familiargame. This is a better opportunity for Saigon to apply the defensive kick method.
Although Hanoi can't organize like usual, Hanoi can still rely on stars like Rimario or Thanh Luong. In an attempt at 15 minutes, Rimario crossed the ball and then showed great effort to send the ball across Van Phong's goal. But captain Van Quyet cushioned the ball into the sky when the net was empty.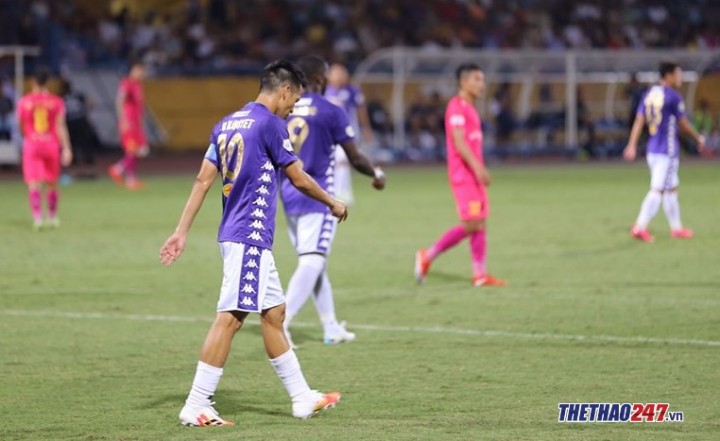 The first half also witnessed a chance again when Van Dung shot a cross from the back of Thanh Luong. On the other side, Saigon relies heavily on foreign duo Geovane and Pedro. The handling phase of this duo makes the young Hanoi defenders face a lot of confusion.
Entering the second half, before the audience was able to stabilize the seats, Geovane had an outstanding handling phase outside the penalty area before finishing into the far corner of Van Cong goal. This situation is also to be blamed when Moses followed someone fiercely.
Hanoi conceding a goal suddenly, rushed to find the equalizer. Opportunities quickly come to the capital team. In the 58th minute, Rimario was blocked in the penalty area by Van Trien and very quickly referee Mai Xuan Hung gave the home team a penalty kick.
Once again Van Quyet made home fans disappointed. His penalty shot was too much for the outside cheek to soar in regret. Minutes later, Hanoi created no less than 3 opportunities, but they could not convert into goals.
0-1 is the final score of the match, this result makes Hanoi lagging on the standings with only 10 points.​