U22's 1.81m tall striker gets special attention from Park Hang-seo
Author: Amelia
10:32 | 21/08/2020
Coach Park Hang-seo instructed two strikers Nham Manh Dung (Viettel) and Viet Cuong (Binh Duong) to practice finishing.
On the afternoon of August 20, the U22 Vietnam team continued to enter the training session at the Youth Football Training Center (Hanoi), 47 players were divided into 2 teams to practice in 2 separate courts led by assistant Lee Joung-jin and Kim Han-joon. Coach Park Hang-seo stands on high to watch and carefully take notes on a paper he holds in his hand.
Because these players rarely play in the V-League, and most are recruited for the first time, they have a lot of difficulties with the exercises.
Park Hang-seo is particularly interested in two strikers Nham Manh Dung (Viettel) and Viet Cuong (Binh Duong). At the end of the training session, the Korean strategist called these two players separately to guide how to move and finish in the position with his back to the goal.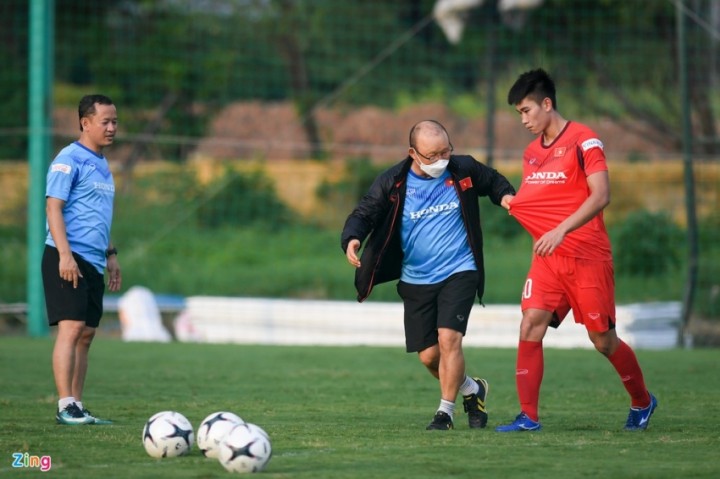 Viettel striker is in the payroll of U23 Vietnam to attend the AFC U23 Championship 2020 at the beginning of the year. Park Hang-seo highly appreciated the change of Nham Manh Dung after just a few months, he shared at the previous training session: "Nham Manh Dung is now quite different from what I see from him in Previous rally. In previous times, Manh Dung was often in pain so he could not show much. Right now, he is in good condition but still lacks playing experience and will have to work harder."
Nham Manh Dung, 20, has a relatively ideal body when he has a height of 1.81 meters with good ability to press and independently fight on attack, especially strong in aerial combat situations.
Meanwhile, Nguyen Tran Viet Cuong is a grown-up from Becamex Binh Duong, who wore the U16 Vietnam shirt at the 2016 AFC U16 tournament held in Cambodia and the 2016 AFC U16 tournament in India. The player with a height of 1.75m has a smart style, fast pace and good finish.