The Indo newspaper: 'Van Hau is a rough football player'
Author: Amelia
14:00 | 10/08/2020
The Indosport newspaper continued to mock Doan Van Hau after he officially said goodbye to SC Heerenveen to return to play for the Hanoi club.
Although the final of the 30th SEA Games has ended for 8 months, the Indonesian media has not yet accepted the defeat against U22 Vietnam. One of the reasons to lose to Vietnam was that midfielder Evan Dimas had to leave the field after the collision with Doan Van Hau, the Indonesian press stated.
Most recently, when Van Hau broke up with SC Heerenveen after a year, the Indonesian media continued to mock the young Vietnamese defender. The Indosport writes:
"Do you remember the defender of the Vietnam injured Evan Dimas? Yes, he is Doan Van Hau who is receiving a bitter fate. Van Hau has returned to Vietnam after being expelled from the high-class Dutch team." It's Heerenveen, The Dutch team doesn't want to keep Van Hau because he doesn't make a big contribution.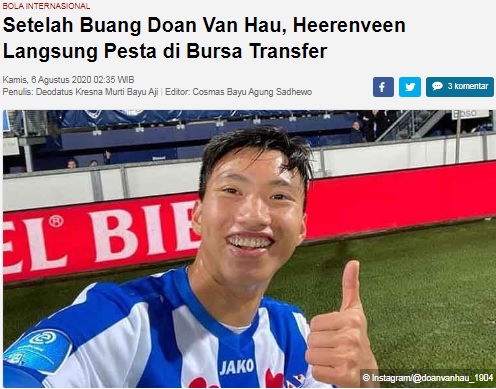 It seems that Heerenveen just wanted to get rid of Van Hau when he immediately brought in a new player. Information from Vietnam said Heerenveen has reached an agreement with Uruguayan defender Joaquin Fernandez ."
This newspaper also ended the article by blaming Van Hau for the defeat of U22 Indonesia last 30th SEA Games 30: "Thanks to the rough style, Vietnam won 3-0 over Indonesia and won the 30th SEA Games gold medal.
Earlier, right after the match ended, midfielder Evan Dimas vindicated Doan Van Hau, saying that it was just a normal collision situation between two players.
Returning to Vietnam, Doan Van Hau will be an extremely quality addition to Hanoi FC in the second phase of the V-League 2020. Especially in the context that they do not have the services of Duy Manh and Dinh Trong because of injury.