Ryan Giggs was very surprised with the success of U23 Vietnam
Author: Amelia
09:37 | 22/05/2020
Mr. Bae Ji-won revealed an interesting conversation with Ryan Giggs when the two met at a professional soccer conference at PVF Center.
Bae Ji-won is considered the 'left hand' of Park Hang-seo at the AFC U23 Championship 2018 finals, when the U23 Vietnam team made history by reaching the final.0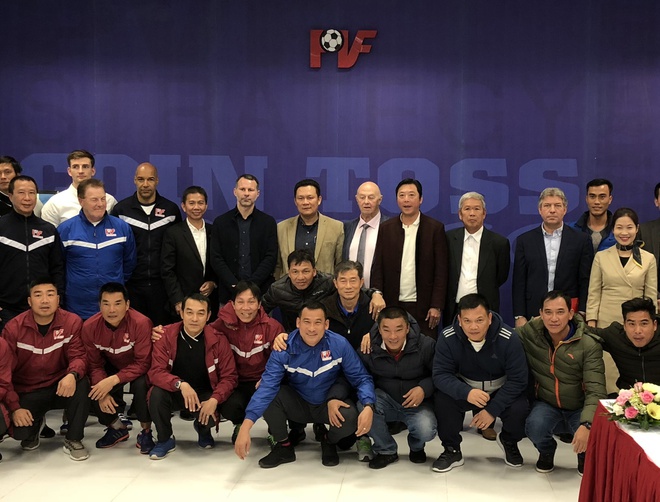 Mr. Bae revealed he had a conversation with former Manchester United player Ryan Giggs (then acting as Honorary Director of PVF Center). He said: "He asked me why Vietnam U23 has great results in the AFC U23 Championship 2018. Giggs also wants to know how the Korean coaches prepared for that?" - according to Zing.
Former assistant coach Park Hang Seo replied, "Both Vietnam and South Korea have always overcome difficulties. Players always trust and follow the direction from the coach. Trust and understanding together make the process. work easier and be more efficient. "
Mr. Bae Ji-won understand that it is difficult to express in detail, because of the cultural difference between and Asian and European thinking. He continued, "I understand his difficulties in specific complex cases."
"He has a certain contract and goals with PVF. They have plans and efforts. However, achieving success in the goal is not just that. Korean coaches are different, We understand the difference in cultural characteristics and thinking of Vietnamese fans better than any foreign coach ".
Success in the AFC U23 Championship 2018 has opened a long journey with the incredible achievements of Vietnamese football in the past 2 years. Unfortunately, Mr. Bae Ji-won said goodbye to Vietnam to work in Malaysia. Mr. Bae is working on building a team of Korean players to come to Malaysia as students studying and competing.