PVF's great striker expressed ambition with coach Troussier
Author: Sirathom Chatchai
17:00 | 29/06/2020
Striker Vo Nguyen Hoang expressed his determination to coach Troussier, and is ready to shoulder the attack of U19 Vietnam in the upcoming Asian finals.
The final of the National U19 2020 took place very attractive with the lead of PVF. Having an early goal helped the Jeronimo army easily take the game as they intended. In that tactic, striker Vo Nguyen Hoang proved extremely dangerous with superior speed and fitness.
Although not scoring, Nguyen Hoang is still the focus of this match with a series of situations that threaten the goal and create space for teammates to exploit into the HAGL defense.
Speaking after the match, this player is extremely confident: "My upcoming goal is to win the trust of coach Philippe Troussier and stay on the official list of U19 Vietnam. I will try my best continuously to claim a spot in the squad for the upcoming AFC U19 Championship 2020 Finals."
Nguyen Hoang has become the leading striker of PVF training academy. Many talents, Nguyen Hoang has overcome many mistakes to become a good player to now receive great trust from the coach.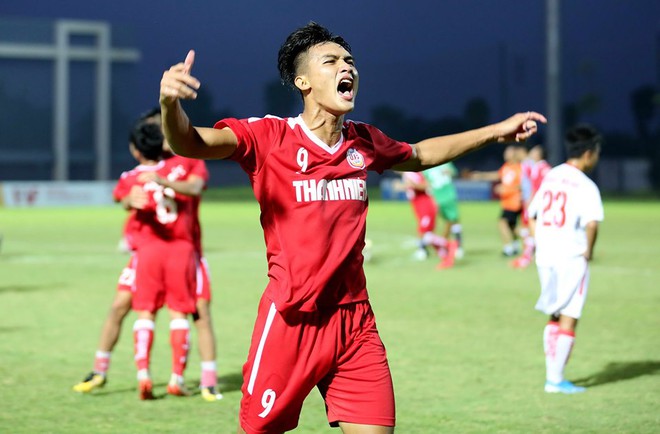 In the last match, Nguyen Hoang has changed quite a lot in his playing style. Nguyen Hoang moves widely contributing to the overall play.
"I have changed the way of playing under the direction of the coaching staff, I myself have improved, contributing much to the overall play of the team," Nguyen Hoang revealed.
Once coach Troussier himself removed from the list of qualifying for the U19 Asian Qualifier 2020 last year, Nguyen Hoang did not feel guilty but tried to prove his ability with the coach. Now he is gradually feeling the outcome of his effort.
"After each failure, I always consider it a lesson for me to rise up, try harder in training to reach further goals in the future."