Nam Dinh, HAGL help V.League 2020 set a new record
Author: Amelia
14:00 | 13/07/2020
Nam Dinh FC and HAGL are the major contributors to helping V.League 2020 set a record for the number of spectators in round 9.
With a total of 73,000 spectators coming to the field, an average of 10,429 people per game, round 9 V. League 2020 has received the most number of fans to the stadium since the beginning of the tournament, surpassing the record set in the round. 6 (66,000 spectators come to the field, on average 9,429 people per game).
The teams in the three stadiums that have made great efforts to help round 9 V. League 2020 set a record are familiar names of professional national championships such as Nam Ha Nam Dinh Pharmaceutical (DNH Nam Dinh - Quang Nam, 18,000 spectators), Hanoi FC (SHB Da Nang - Hanoi FC, 15,000 spectators) and HAGL (Becamex Binh Duong match - HAGL, 14,000 spectators).
In any national championship, the appearance of the stars is always one of the important factors to attract fans to the field, and Hanoi FC or HAGL are typical examples, because the star players that these two clubs own always help them receive great attention every time they play away, and round 9 V. League 2020 is no exception.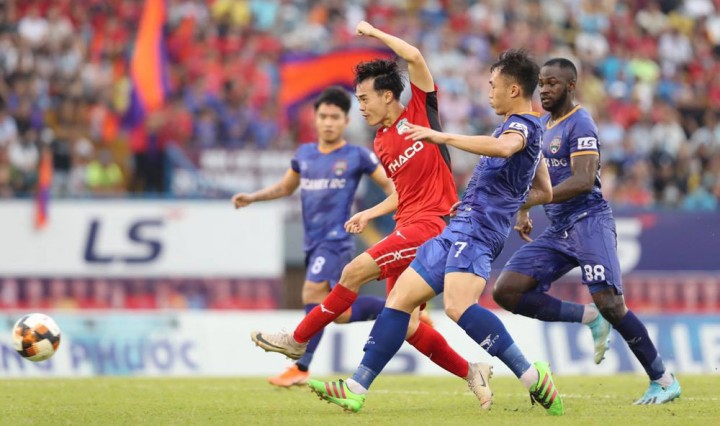 Of course, the audience not only came to the field due to the presence of famous names, because there are still some teams that do not have high rankings, not many bright stars in the squad, but they always attract a desirable audience, not only with the V.League 2020 but also with other regional top national championships such as the Thai League or Malaysia League.
Notably Nam Dinh FC, the team is still a phenomenon of the number of spectators coming to the yard at home matches. This year, Nam Ha Nam Dinh is no longer a rookie in the V.League 2020, there is no element of surprise, so the fact that they maintain a significant number of spectators coming to Thien Truong yard is probably explained by the true attraction of the team.