Heerenveen received a special letter about Van Hau
Author: Amelia
12:00 | 21/05/2020
The organizers of the Golden Ball award sent an invitation to Van Hau to attend this year's awards ceremony through Heerenveen.
The Vietnam Golden Ball 2020 will be held in Ho Chi Minh City on May 26. Organizing committee (SGGP newspaper) has officially confirmed this information.
This year's golden ball is almost a civil war between players of Hanoi FC, including Doan Van Hau. The year 2019 marked a step forward in Van Hau's career when he moved to SC Heerenveen.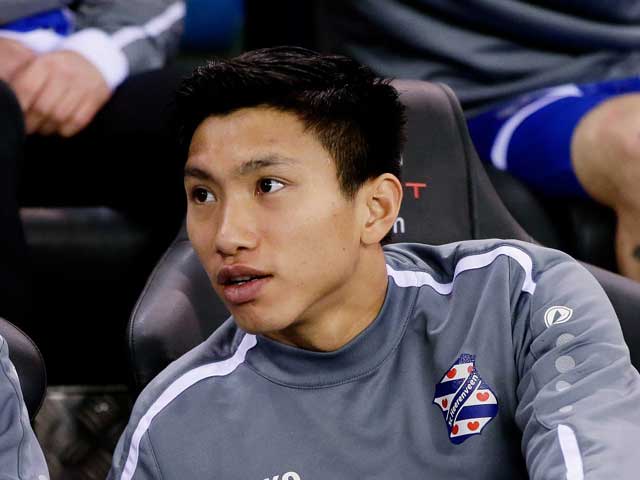 Despite not playing much at the club, Van Hau still plays a very important role in the Vietnamese shirt color, helping Park Hang-seo's army temporarily topped Group G in the 2022 World Cup qualifiers.
The organizer of the Golden Ball has confirmed to send Van Hau an invitation to attend this year's awards ceremony. Email was sent to SC Heerenveen's board.
However, Heerenveen and Van Hau have not given a response to the organizers due to the complicated disease situation. If he comes back, Van Hau must also comply with the quarantine regulations. For these reasons,. Most likely Van Hau will ask his parents to attend this event on his behalf.
Van Hau has not yet responded to the invitation of the organizer of the Golden Ball Award
In the Netherlands, Van Hau and his teammates returned to practice after a period of social distancing. The players mainly train in groups and wait for new options when the Dutch league is canceled, while the start of the new season has not been determined.
Van Hau's contract will also be closed on June 30. Hanoi Club and SC Heerenveen are still in the process of negotiating to reach an agreement.
In addition to Van Hau, there are 3 other Hanoi players in the nominee list, namely Quang Hai, Hung Dung and Van Quyet. The only exception is Trong Hoang (Viettel). Van Hau also named in the list of Young Player of the Year.
-Men's Golden Ball:
Do Hung Dung (Hanoi Club)
Nguyen Quang Hai (Hanoi Club)
Doan Van Hau (Heerenveen Club SC)
Nguyen Trong Hoang (Viettel Club)
Nguyen Van Quyet (Hanoi Club)
-Women's Golden Ball
Nguyen Thi Tuyet Dung (Ha Nam Phong Phu Club)
Chuong Thi Kieu (HCMC Club)
Huynh Nhu (HCMC Club)
Tran Thi Kim Thanh (HCMC Club)
Pham Hai Yen (Hanoi Club)
-Futsal's Golden Ball:
Pham Duc Hoa (Thai Son Nam Club)
Tran Thai Huy (Thai Son Nam Club)
Nguyen Minh Tri (Thai Son Nam Club)
Tran Van Vu (Thai Son Nam Club)
Ho Van Y (Thai Son Nam Club)
-Men's Young player of the Year
- Nguyen Hoang Duc (Viettel Club)
- Doan Van Hau (Heerenveen Club SC)
- Nguyen Van Toan (Hai Phong Club)
- Tran Danh Trung (Viettel Club)
- Women's young player of the year:
Nguyen Thi Tuyet Ngan (HCMC Club)
Cu Thi Huynh Nhu (HCMC Club)
Ngan Thi Van Su (Hanoi Club)
-Foreign player of the year:
Bruno Cantanhede (Viettel Club)
Memovic Damir (SLNA Club)
Pape Omar Faye (Hanoi Club)