Hanoi assistant coach: 'Quang Hai had to repress his pain to play'
Author: Nick Cassidy
11:30 | 19/06/2020
Despite the pain before the match against SLNA, the leading goal of SLNA forced Chu Dinh Nghiem to play Quang Hai and the star had to play with his pain.
Although Hanoi was rated higher than the opponent with the advantage of playing at home, the Hanoi Club suddenly lost 0-1 to Song Lam Nghe An. The only goal of the match was scored by young player Dang Van Lam with a beautiful masterpiece.
In this match, Quang Hai had to sit on the bench due to an injury in the HAGL match in the previous round. Lacking creative midfielder, Hanoi FC lost the usual sharpness and connections among players.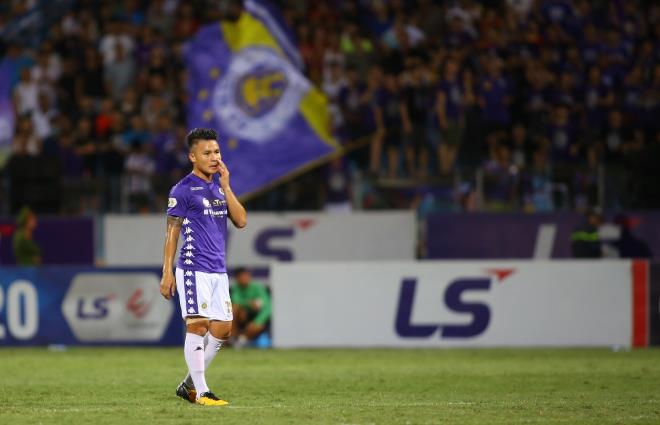 Therefore, in the last minutes of the match, in order to increase the pressure to find a equalizer, coach Chu Dinh Nghiem was forced to launch the 23-year-old player on the field. The appearance of Quang Hai immediately helped the capital's team flourish in the attacks. If Hanoi was luckier Hanoi FC would be able to get an equalizer.
Speaking after the match, assistant Nguyen Cong Tuan praised the sacrifice of the number 19 player: "Quang Hai has long been an important position and relatively contributed to the play of the Hanoi club. Due to a health problem, he could not play at the beginning of the match ".
"At the time he came on the field, SLNA was lying deep. Although his leg had not recovered, Quang Hai still tries very hard. The whole team, not only Quang Hai, has tried hard. Unfortunately we cannot have goals. "
The loss of SLNA was the second defeat of Hanoi FC in the V-league this season. This is alarming for the army of coach Chu Dinh Nghiem when the tournament has only 5 more rounds.