Bui Tien Dung: "I still pray for Van Hau to continue going abroad to play"
Author: Amelia
13:00 | 11/07/2020
After learning that Doan Van Hau will return to play for Hanoi Club. Goalkeeper Bui Tien Dung has shared about his teammates in the National Team.
In a recent interview, the goalkeeper of the Ho Chi Minh City Club said: "I have heard this information but have not spoken to Van Hau. I still do not know if this is the correct information or not because at this time Hau is still in Netherlands. I am really sorry for Van Hau. Vietnam does not have many players playing in foreign countries. I still wish that Van Hau would continue to play abroad. "
In addition to the regret for the younger, the goalkeeper is impressed by Van Hau's physical condition after a year."His thighs are terrible. Sometimes when Van Hau practices at home, he calls me so I see the intensity of the training is terrible."
On the afternoon of July 10,the Hanoi club announced that it was unable to negotiate an extension of Doan Van Hau's contract with SC Heereveen and the defender would return to the managing club to play in phase 2 of V. League.
Bui Tien Dung has an afternoon training session with the HCMC club to prepare for the round of V.League 2020 as a guest against Than Quang Ninh. Since goalkeeper Thanh Thang is injured, Bui Tien Dung is likely to be the main goalkeeper.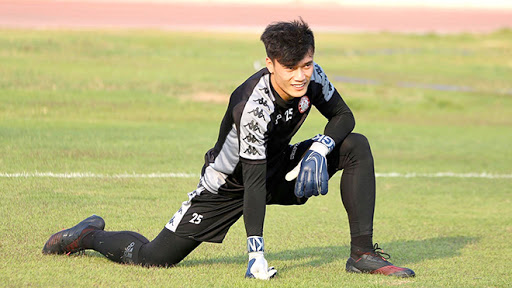 The hero in Changzhou also shared the opportunity for himself: "I train every day and wait for the opportunity, try to integrate with the whole team. It's been a long time since I have had an official match. I haven't played for a long time.
We maintain a happy atmosphere and solidarity in each training session. Coach Chung Hae-seong reminded to be comfortable with the game, football is fun and let's focus on the game," Bui Tien Dung said.
The match between Than Quang Ninh and Ho Chi Minh City Club will take place on Cam Pha Stadium at 6:00PM on 11/7.​