Bui Tien Dung: 'every goalkeeper makes mistakes'
Author: Amelia
15:00 | 20/08/2020
Recently, goalkeeper Bui Tien Dung has experienced a difficult time when he is constantly criticized for his mistakes when playing for U23 Vietnam.
Being the hero of U23 Vietnam at the AFC U23 Championship 2018 in Changzhou, the successive mistakes in recent times have caused goalkeeper Bui Tien Dung's career to encounter low notes at the present time.
Most recently, Bui Tien Dung was not on the list of Vietnam, although he is Park's favorite. This is a reminder of the Korean strategist to his player that he will have to work harder to be able to return to the national team.
Recently, goalkeeper Bui Tien Dung has talked about difficult times recently. He said:
"Most goalkeepers make mistakes, because for 90 minutes, the goalkeeper must focus on handling from easy to difficult situations, must try his best. Every goalkeeper wants to do the best to the team, let the audience see what they are capable of.
When successful, everyone applauded. When you fail, sadness is only for yourself. I voice not only for myself, but also for many other goalkeepers, including young goalkeepers who are passionate about the goalkeeping position later on. You need to understand that mistakes are obvious.
After making mistake, you must keep playing. Please try and be determined.
Even when there is no one by your side, everyone turns their backs on your mistakes, just be steadfast. This is your job. To be successful, you must overcome such things."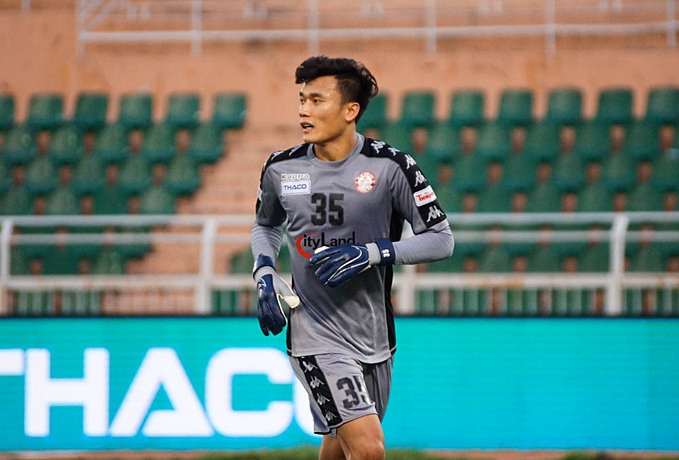 Earlier this season, Bui Tien Dung decided to say goodbye to Hanoi FC to join the HCMC club. Here, he was working with coach Tran Minh Quang, who commented that he lacked many skills to become a good goalkeeper. The goalkeeper from Thanh Hoa also admitted this.
"I came to football quite late, until I got a little older, then I played as a goalkeeper. That was a big obstacle, because I needed to learn and hone my football skills from a young age and grow up gradually. As a professional player, I need to perfect all my skills.
The time to ensure the technical skills is not much, it will be a little more disadvantaged. However, I always try to overcome it because the football path is still long. I practice every day with my teammates, can shape my technique "- Bui Tien Dung shared.