Bui Tan Truong: 'I changed my career in the final SEA Games 2009 match'
Thứ sáu, 28/08/2020 14:35 (GMT+7)
Tan Truong shared his words about events that made his career go through many ups and downs.
Recently, Tan Truong has shared sincerely about public doubts throughout his career. Perhaps the most "terrifying" match is the 2009 SEA Games final between Vietnam and Malaysia.
At that time, Vietnam was highly appreciated and easily surpassed Malaysia in the group stage, so fans just waited for the first moment on Vietnamese football holding the gold medal in SEA Games. But the result of the match was crazy when Vietnamese players played deadlock with a heavy mentality, Tan Truong was one of the people who received much criticism when injured but still had pain in the game.
Recalling about that memory with On Sports, Tan Truong said: "This I have explained a lot. I gave the signal to replace, I dislocated my shoulder definitely cannot play because this hand is broken, cant play any more.
When I was out on the field, Mr. Calisto asked Dr. Hien if there was any way to keep me playing. At that time, Xuan Hop, Thanh Luong, Hoang Quang, Long Giang also came to encourage me to continue playing. At that time, Dr. Hien said that only one way was to inject anesthetic directly into the pain to lose sensation.
I agreed to give the injection and continued to play. I trade my career for injury. Doctor Hien told me that if I continued to play I could break the ligament and indeed when I came back I would have a ligament rupture. At that time I just firmly stood in the goal to create confidence for other players and actually I still play well."
However, the biggest market for Tan Truong is a photo of Mr. Calisto hugging the player's neck after the match. According to Tan Truong's explanation, at that time he could not accept defeat so he struggled with pain. Coach Calisto came to his seat and said "you are a man, you must accept defeat and cope with it to succeed".
At the AFF Cup 2010, in the match as a guest in Malaysia, Tan Truong made two serious mistakes leading to a goal. Tan Truong shared that the game was like taking away his career in the national team.
"That year I returned to the national team after playing very well to help Dong Thap to the top 5 V-League. I joined with Duong Hong Son. I was the number 2 goalkeeper but Hong Son did not play well that year so the last match against Singapore, I was trusted by Coach Calisto, I played well and helped the team to reach the semi-finals against Malaysia.
Malaysia is like a predestined debt to me or why it is unclear. Although there were explosions behind, audience and laser beams, it didn't matter much. The first half played well and stable, but in the second half I made a mistake when trying to catch the ball. The cross did not have much power, but I subjectively led to a mental breakdown and made a mistake at the second goal. As a result, I was indecisive, so the striker kicked in.
After that situation, when I came back, people kept saying that I fixed the score, making my spirit go down. After that I returned to the team in 2011 and 2012, but I have no trust and no fate with the national team.​"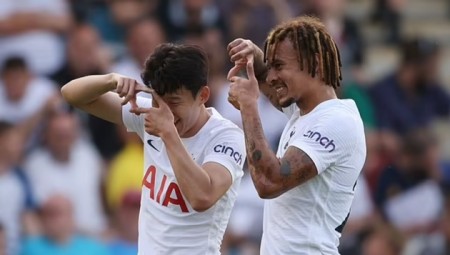 VIDEO: Không cần Harry Kane, Son Heung Min tỏa sáng giúp Tottenham đại thắng
Tottenham có trận giao hữu với Colchester. Dù không có sự xuất hiện của trụ cột Harry Kane tuy nhiên ngôi sao Son Heung Min vẫn đủ khả năng lĩnh xướng hàng công Spurs với 1 bàn thắng và 1 kiến tạo.