Quang Hai fires a masterpiece, Hanoi win full three points over Da Nang
Despite no having much domination compared to Da nang in round 21 V-League, Hanoi FC still took what they need- three precious points, by star Quang Hai's performance.
Hanoi travelled to Da Nang on Friday with its strong squad including   Pham Thanh Luong, Nguyen Van Quyet, Nguyen Quang Hai, Papa Kebe, ...
Meanwhile, Da Nang also showed its lineup with dup Do Merlo- Ha Duc Chinh who played highest in the lineup.
Hanoi quickly entered the game and created dangerous situation, notably Van Quyet's corner kick yet Papa Kebe could not make it through opposing side Thanh Binh's net.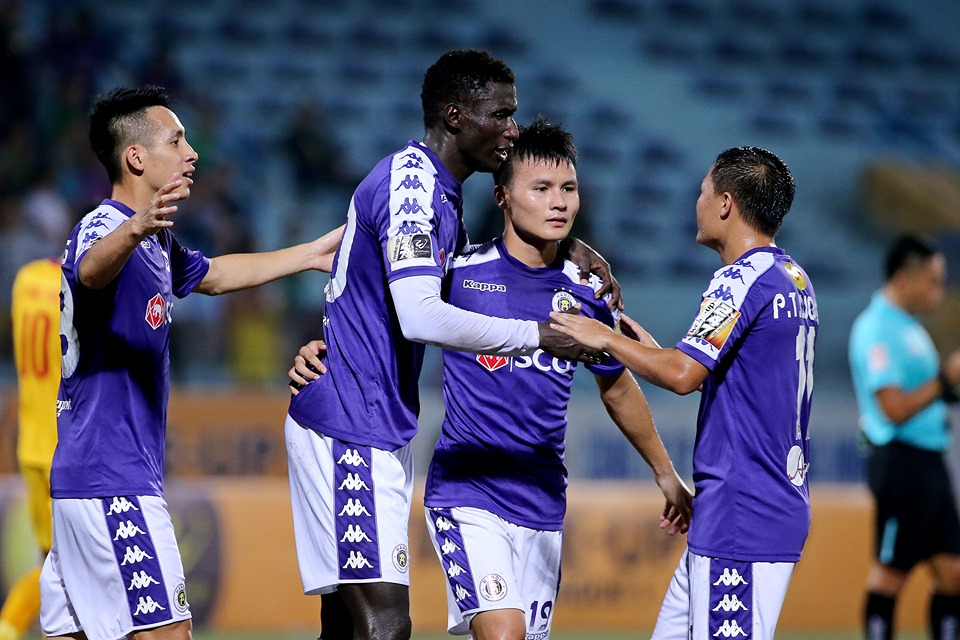 In the 9th minutes, SHB Da Nang had an counter-attack, Ha Duc CHinh was set up to face Hanoi's goalie Van Cong, ending up with missing the net.
In the 27th minute, Quang Hai shot from the penalty set-piece, opening the scoring for Hanoi.
Three minutes later, Hanoi doubled the advantage with defender Tran Van Kien's goal.
Da Nang coach le Huy Duc made 2 changes: Vo Duy Hoan and A Mit replaced Ha Duc Chinh and Minh Tam. However, they could not play better, accepting a first half 0-2 loss.
After the break, SHB Da Nang scored off an equalizer right from the first attack. Do Merlo got on Da Nang scoresheet with Vo Duy Toan setting up Do Merlo's a nice finish.
Da nag took back its confidence and dominated the game, however they miss several chances.
The relentless pressure helped Da Nang awared a 70th minute penalty as Van Kien touched the ball inside the box yet Da Nang side could not plant the ball into Van Cong's net.
Chu Dinh Nghiem side then played deeper on their side with lower speed.
The second half ended, Hanoi won 2-1 over Da Nang. With this win, Hanoi continues to take over the top spot on the table.