U22 Vietnam was held, Park could not be happier
Author: Amelia
12:09 | 28/08/2020
Le Van Nam and Le Thanh Minh didn't shine enough to help U22 Vietnam beat Viettel club.
According to the plan, Vietnam U22 would have an internal fight on the afternoon of August 27.
However, Coach Park Hang-seo and his associates decided to let the players play with Viettel club.
Against a strong team at V.League 2020, Coach Park Hang-seo and his assistants launched a team that was not the strongest with goalkeeper Van Toan; 3 center-backs are Van Toi, Ba Sang, Anh Viet; 4 midfielders are Van Xuan, Van Hai, Thanh Truong, Ngoc Tien; The three spearheads are Huu Thang, Thanh Minh and Van Nam.
Meanwhile, coach Truong Viet Hoang ranked Viettel club team to play with many of the best names such as Bui Tien Dung, Trong Hoang, Khac Ngoc, Ngoc Hai, Minh Tuan and 2 foreign strikers Caique - Bruno.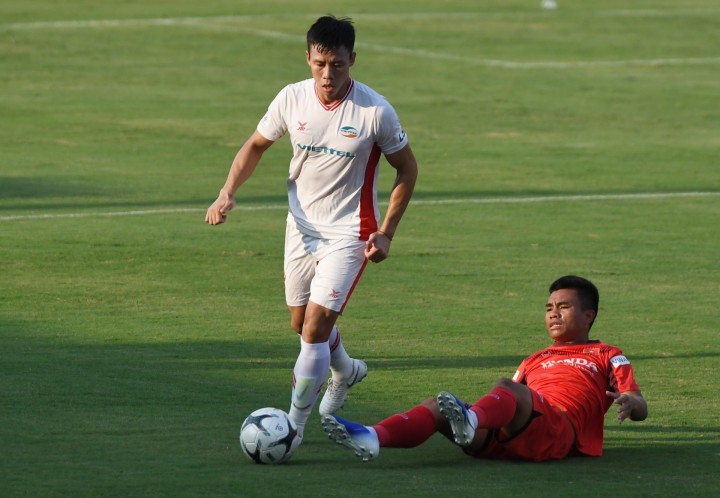 With a stronger force, the Viettel club easily escaped the game and continuously threatened the goal of U22 Vietnam. However, the students of Mr. Park Hang Seo performed excellently and stood firm after the first 45 minutes.
Entering the second half, Viettel club soon had an opening goal thanks to 'Messi of Nghe An' Ho Khac Ngoc in the 56th minute. U22 Vietnam played hard and found a 1-1 equalizer in the 71st minute of Van Nam. Mr. Park's army continued to lead 2-1 thanks to Van Nam in the 73rd minute.
Suddenly being led, Viettel raised the team to find a goal. After many times of braking, Que Ngoc Hai and his teammates earned a penalty in the 78th minute. At 11m, Caique successfully equalized for the home team.
The final result of the match, U22 Vietnam drew Viettel club with a score of 2-2, the goals were scored by Ho Khac Ngoc, Caique (Viettel), Le Van Nam, Le Thanh Minh (U22).
Although he could not win, Park Hang-seo was still very happy with his students' performance. Because the players who rarely play in the V.League or First Division, hold a tie with Viettel club is a very successful result. After this match, the players from U22 Vietnam will return to the club.​