The French-Vietnamese midfielder of U22 Vietnam broke his meniscus
Author: Amelia
18:00 | 28/08/2020
Midfielder Tieu Exal was injured after the internal U22 match of Vietnam with Viettel on the afternoon of August 27.
On the morning of August 28, U22 Vietnamese players were allowed to return to the club after more than 10 days of meeting at the VFF Youth Football Training Center. However, some injured players will stay to receive the care of team doctors, including Tieu Exal.
In the last training match between U22 Vietnam and Viettel on the afternoon of August 27, Tieu Exal was not on the list of matches. This player and the other group kicked internally after the 2-2 draw and got injured. He has to apply ice constantly and cannot walk by himself. Exal Tieu should be carefully monitored to avoid bad changes in the future.
On the morning of August 28, it was found that Tieu Exal had to use crutches and a tightly bound knee to move around the campus of the Vietnam Football Federation. At that time the other players were packing their bags back home. Tieu Exal asked permission from the management club of Ho Chi Minh City to stay and treat the injury completely.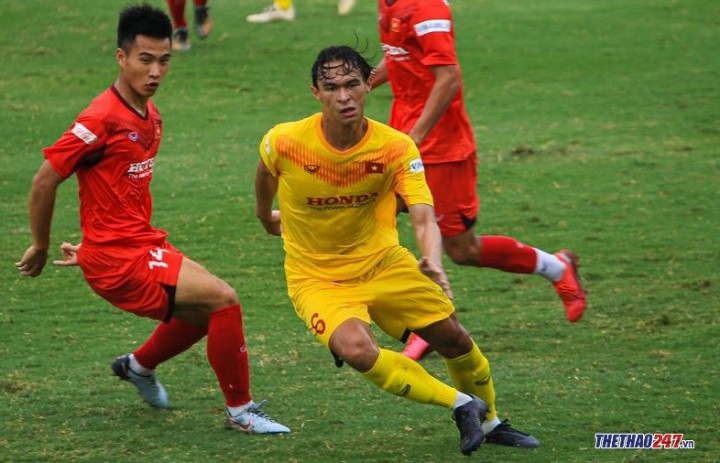 During the recent concentration period, Tieu Exal has been continuously tested by Park Hang-seo in the position of the center-back left. His forte is the central midfielder in the HCMC club shirt, although he has not officially played any match in the V-League.
Coach Park often asks his assistant Park Sung Guyn to help Tieu Exal practice privately. This shows that Mr. Park recognized the good qualities of the French-born player. However, he still has many limitations in his gameplay, so it takes time to correct.
After this gathering, Park will have an evaluation for 47 players. He will continue to screen and reunite later this year when the National Championship ends in December. More than a year away, Mr. Park and his colleagues will enter the 31st SEA Games campaign at home with the goal of protecting the gold medal.​