Quang Hai criticized heavily for buying a car
Author: Amelia
10:33 | 23/06/2020
After the photo of Quang Hai buying a car, he received a lot of criticism from the Vietnam fans, including many disrespectful and vulgar comments.
Recently, midfielder Nguyen Quang Hai bought a Mercedes worth nearly $100,000. This is an SUV chosen by many teammates in the Vietnam national team such as defenders Bui Tien Dung, Do Duy Manh or Nguyen Tien Linh.
Quang Hai went with  his parents and took a photo with the agent's representative. However, the images of Quang Hai during the car handover ceremony were suddenly received criticism from a part of the public.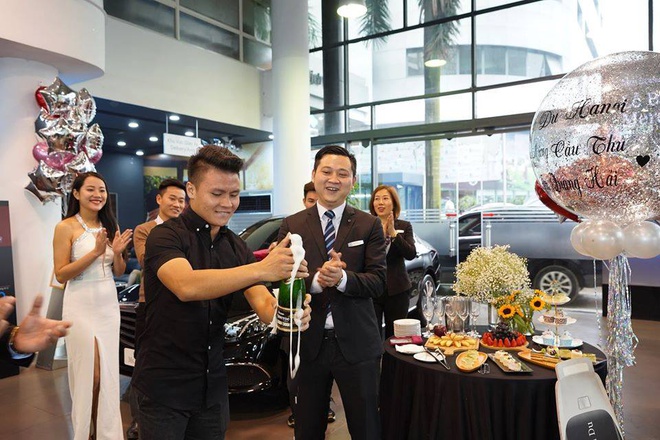 "Knowing that young people are talented, they can buy anything, but when the country is fighting against  Covid epidemic, showing off like this can make them lose all images," an anonymous account revealed.
There were even some negative comments like "having money to buy a car but no money to donate", "while the whole country called for contributions, he went to buy a car". Rude comments like these appear quite a lot on forums and social networks.
However, besides the criticism, there are many praising, encouraging and supporting comments for Quang Hai.
"At the age of 23, he can buy a house or a car, But I can't ..." or witty jokes "If I had a chance, I would have become a footballer so now I could buy a car like this. "
Some comments to protect Quang Hai were also given, "He buys a car with his own money. You could not force him to donate. No one has the right to force others to do anything. "
It is known that the above photos are taken by the agency and released as a PR for the brand. Therefore, the criticism on Quang Hai showing off is wrong.
How to support against the Covid-19 epidemic is the common issue of the whole community. Everyone has a different way to contribute, in addition to money, washing your hands, wearing a mask when going out or maintaining general hygiene is also something that every individual should do in the present time.
Quang Hai is currently resting with the Hanoi club during the postponded V-League.​