Do Hung Dung revealed the 'benefactor' that made his career turn to a new page
Author: Paithoon Bundarik
17:30 | 27/05/2020
Vietnam Golden Ball 2019 revealed that before the current success, he had a hard time not daring to play in V-League because of health problem.
Do Hung Dung officially became the owner of the Vietnam Golden Ball Award 2019. This is a gift and a reward worthy of Hung Dung's contribution to the success of the Hanoi club as well as the Vietnam national team last year.
After receiving the award, Hung Dung had a very interesting sharing about the past before having success like now. The first surprise is probably the fact that he was so weak that he only kicked for 60 minutes.
"Every 60 minutes, 70 minutes, my legs were as weak as noodles, I was exhausted and unable to kick anymore. I always had a a cramp after playing 60 minutes and then leave the field. Only later, I understood my method is not scientific, until 2015, Mr. Thang came back to the team, which brought a turning point for me.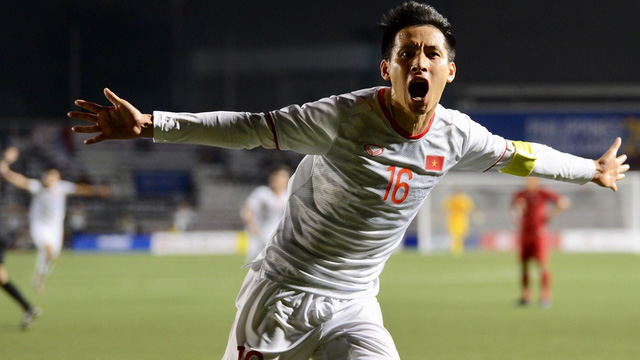 Hung Dung used to be weak and could not finish the match
My muscles are large so the training load must be heavier than normal players. People practice to kick full 90 minutes to rest, I have to practice more than that. I know many people will laugh when they read here. For the first two years in the V.League, I didn't take a game. But before I was "a person without a lung," I couldn't breathe, " shared Zing.
The fact that Hung Dung only played 60 minutes surprised people because since being known, the Hanoi player has always been considered a warrior with a full physical base. The lack of physical strength is also the reason that prevented Hung Dung from succeeding earlier.
"When the big team called me back to the V.League at the end of 2015, I struggled. I was playing here, there was a backup there. The big team was all star then, I don't have a chance. I insisted on not going back. I knocked on the door to beg Coach Duc Thang three times to be stayed with the team. " - Hung Dung innocently shared
Finally, how lucky it was to be in Hanoi at that time, the best players in the middle were in trouble and Hung Dung was given the chance. Seizing the opportunity helped Vietnamese football to own a warrior, a man who helped Vietnam fly at the top.