Coach Troussier pleased with the players of U19 Vietnam
Author: Amelia
19:34 | 31/08/2020
U19 Vietnam had a week training at PVF Football Training Center. This is the third call up in 2020 of Philippe Troussier towards the AFC U19 Championship 2020.
Taking advantage of the time the domestic tournaments were halted due to the influence of the Covid-19 epidemic, the French coach has summoned quite a few faces that will be considered as a key component in the AFC U19 2020 campaign.
Most of these players are playing in the second national league in clubs such as Phu Tho, CAND, Viettel. Coach Philippe Troussier himself also said that out of the about 100 players he watched, the players summoned in this phase were all very potential faces and always showed their efforts and sense of direction of coaching team in training sessions.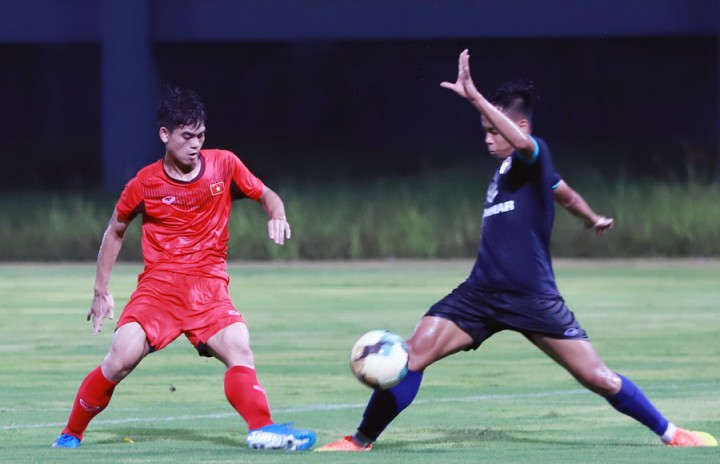 Before the end of the gathering, on the afternoon of August 28, coach Philippe Troussier tested U19 team. It was a practice match with Pho Hien Club. He has created the opportunity for all players to enter the field for three rounds of 30 minutes each. As a result, with more experience from the team playing in the first division of the country, Pho Hien Club won 2-0 with a double from Pham Duc Thong.
Meanwhile, the score of a practice match is not much meaningful for U19 Vietnam. It is important that through this training, coach Phillippe Troussier has a better understanding of the players' abilities, thereby building up a plan for the next gathering, expected to last about 3 weeks before attending. Asian U19 Finals 2020.
VFF is creating favorable conditions, helping U19 Vietnam to take the initiative in preparing for the U19 Asian Championship 2020, although it is not certain whether the tournament will be organized or not due to the influence of the Covid-19 epidemic.  
Up to the present time, the Asian Football Federation (AFC) has not yet made an official decision on whether to hold the 2020 AFC U19 Finals as scheduled in October, or suspend, or move to 2021. . However, VFF is still proactive in solutions to ensure that Vietnam U19 always has the best preparation.​