Brazilian goalkeeper: 'Kiatisak is afraid of 3 Vietnamese teams'
Author: Amelia
14:00 | 07/08/2020
Brazilian-born goalkeeper Phan Van Santos has shared his memories from his career, and his friendship with Kiatisak.
Goalkeeper Phan Van Santos has come to Vietnam to play since 2001. The first club he joined was Dong Tam Long An. Santos played here until the 2010 season, after which he transferred to Navibank Saigon on loan. In 2012, he returned to Becamex Binh Duong Club after Navibank Saigon dissolved. One year later, he joined the rookie V-League that season, Hung Vuong An Giang, before retiring.
In 2008, Phan Van Santos had Vietnamese nationality and was summoned to the national team by coach Calisto. Moreover, Santos was played in the match between the Vietnamese team against the Brazilian team, against Ronaldinho and the top stars of world football at that time.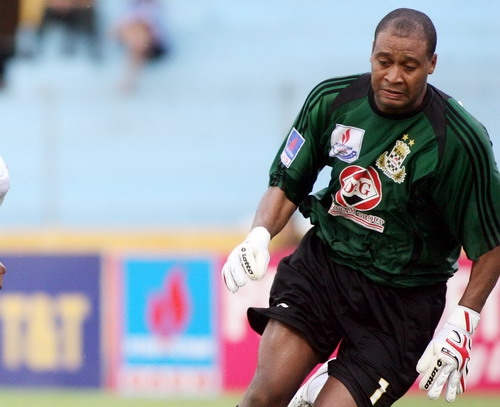 When he was still playing in the V-League, Phan Van Santos often faced Kiatisak in the HAGL shirt. The Brazilian-born goalkeeper judged Kiatisak as an agile, technical, excellent ball player, and very good at moving. Off the pitch, the two are also close friends and are still in contact today.
Phan Van Santos shared: "Kiatisak oves me very much. We are still in touch. When he was playing in the V-League, Kiatisak was also quite afraid of Long An, SLNA, and Danang clubs. The 2002 season, Kiatisak was the most dangerous player for me. When facing the goalkeeper, he handled it very well. He calmly handled and scored, playing like Thierry Henry of Arsenal "- according to Zing.
After retiring, Phan Van Santos works as a coach and sells food. He used to work as a coach for the Binh Duong youth team for 2 years, but then had a traffic accident. After that, he moved to work as part-time coach for Saigon South International School (SSI).
The Vietnamese naturalized goalkeeper was honored by AFF as the keeper scoring the most goals in Southeast Asia with 15 goals. In fact, Santos scored more goals than this number, all on penalties and free kicks.