An Giang FC
Pho Hien coach Hua Hien Vinh coach was severely punished by VFF for strangling Van Huy of An Giang FC.
Coach Hua Hien Vinh of Pho Hien Club did not act well when rushing to strangle An Giang's player.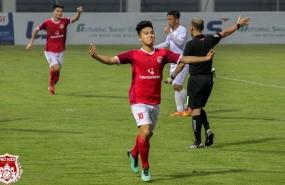 Thể Thao 247 - Martin Lo came to 2019 V-League 2 Round 6 and contributed to Pho Hien FC a brace helping his team holding on one valuable point against An Giang FC.