SEA Games 30th men's football: Identify 4 teams to the semi-finals
Author: Admin
19:00 | 13/12/2019
Right after the last match of group B was held, the 4 teams to the semi-finals are reveals.
The SEA Games men's football qualifying round ends with full of surprise. U22 Vietnam ties to u22 Thailand, Indonesia easily defeats Laos 4-0. Meanwhile, Singapore thrashes Brunei 5-0.
As a result, U22 Vietnam come 1st on the table of group B with 13 points, followed by Indonesia (12 points). Both teams will enter the semis of men's football.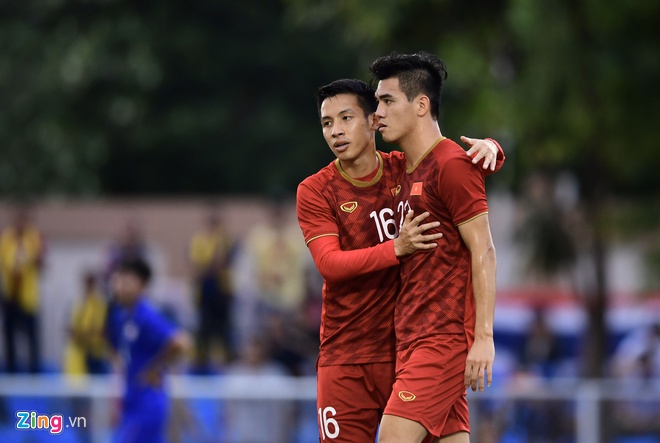 Earlier, group  A witnesses Myanmar taking top spot with 10 points and second-placed Cambodia with 7 points.
According to the regulations, group winner will encounter another second-place team. Thereby, Myanmar will face Indonesia and Vietnam will encounter Cambodia.
SEA Games 30th men's football schedule:
3:00PM, Dec 7: U22 Myanmar vs U22 Indonesia
7:00PM, Dec 7: U22 Vietnam vs U22 Cambodia.
SEA Games 30th men's football tables:
Group B
| | | | | | |
| --- | --- | --- | --- | --- | --- |
| No. | Team | Match | GD | Pts |   |
| 1 | U22 Vietnam | 5 | +13 | 13 | Semi-finals |
| 2 | U22 Indonesia | 5 | +15 | 12 | Semi-finals |
| 3 | U22 Thailand | 5 | +10 | 10 |   |
| 4 | U22 Singapore | 5 | -1 | 4 |   |
| 5 | U22 Laos | 5 | -8 | 4 |   |
| 6 | U22 Brunei | 5 | -31 | 0 |   |
Group A
| | | | | | |
| --- | --- | --- | --- | --- | --- |
| No. | Team | Match | GD | Pts |   |
| 1 | U22 Myanmar | 4 | +4 | 10 | Semi-finals |
| 2 | U22 Cambodia | 4 | +6 | 7 | Semi-finals |
| 3 | U22 Philippines | 4 | +5 | 7 |   |
| 4 | U22 Malaysia | 4 | +1 | 4 |   |
| 5 | U22 Timor Leste | 4 | -16 | 0 |   |