Quang Hai gets torn groin, Hanoi FC in difficulties
Author: Amelia
08:55 | 01/07/2020
According to coach Chu Dinh Nghiem, Quang Hai is suffering from an injury and has not been scheduled to return.
VIDEO: Highlights Hanoi 0-1 Saigon (Round 7 V-League 2020)
On the evening of June 30, Hanoi FC welcomed Saigon on Hang Day Stadium in the 7th round of V-League 2020.
Although the team controled the ball more, the strikers of Hanoi FC could not find the visitors' net.
Meanwhile, Saigon played stable at home and often has very dangerous counter attacks. One of them was successfully used by striker Geovane, bringing the only goal of the match for Vu Tien Thanh's army.
In this match, Hanoi FC did not have the service of Nguyen Quang Hai. According to initial information, Quang Hai is given a break to prepare for the next rounds. However, things are a lot more complicated.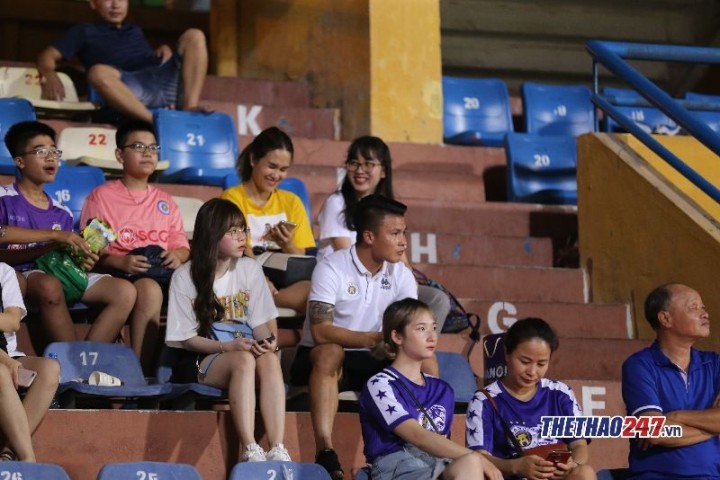 Quang Hai was injured and has not scheduled to return: "In the match against Binh Duong Club in round 6, Quang Hai suffered a torn groin so he could not play. He has recovered by 60-70%.
The recovery time depends on the location of each person. I am not sure how much time he needs to recover completely. We have to wait ".
Quang Hai's injury will definitely make Park Hang Seo's coach very worried. Vietnam is preparing to enter the most important stage in 2020 with two goals: AFF Cup and World Cup qualifying 2022. The injury and the long absence will make Quang Hai's performance not be Guaranteed to return to Vietnam.
Not only Quang Hai, but Hanoi FC is also facing the injuries of many other key players. This makes the goal of protecting the championship of the team very difficult:
"The loss of such a force is unfortunate. We have too many injuries. Many pillars cannot play since the beginning of the season. Duy Manh, Dinh Trong are seriously injured. Omar, Ngan Van Dai or Quang Hai There are also not enough staff to rotate, the players are injured easily.
With today's competitive density, the teams were forced to change the squad. If not, the player does not have enough time to recover. We are having a difficult time, we cannot rotate the squad.", Chu Dinh Nghiem shares.
The thrashing to Saigon made Hanoi fall to 6th place on the table with 10 points after 7 rounds. In the next match, coach Chu Dinh Nghiem will have the derby with Viettel Club. This is expected to be a very difficult match for the champions.