Park Hang-seo behind Kiatisak in Top 8 most successful national coach
Author: Amelia
21:00 | 17/06/2020
Asean Football voted for Kiatisak to be greater than Park Hang-seo in the history of football in Southeast Asia for the past 10 years.
After more than 2 years working in Vietnam, Park Hang-seo has become one of the most successful stratergists at the national level. However, in the recent Asean Football poll, the Korean strategist is still behind Kiatisak.
According to Asean Football - the largest football forum in Southeast Asia, Kiatisak is the most successful coach from 2010-2020, helping Thailand to win the AFF Suzuki Cup (2014, 2016) and qualify for the third round of World Cup 2018.
'Thai Zico' has led the 'War Elephants' 43 games in all competitions to win 22, draw 7 and lose 14. The winning rate of Thai football legend as the national coach coach reached 51.2%.
Park Hang-seo ranked 2nd in the list when leading Vietnam 22 matches to win 11, 8 draws and 3 losses. The Korean coach won 50% winning rate to help Vietnam win the AFF Cup 2018 and reach the top 8 of the best Asian Cup 2019 teams.
Asean Football's statistics only sum up the achievements at the national level, so they skip many historical achievements of Park Hang-seo in young teams such as the AFC U23 championship 2018 runner-up, 4th Division Asiad 2018, Gold Medal SEA Games 2019 ... Even, Park Hang-seo coach once led Vietnam to knock Thailand right at the King's Cup 2019.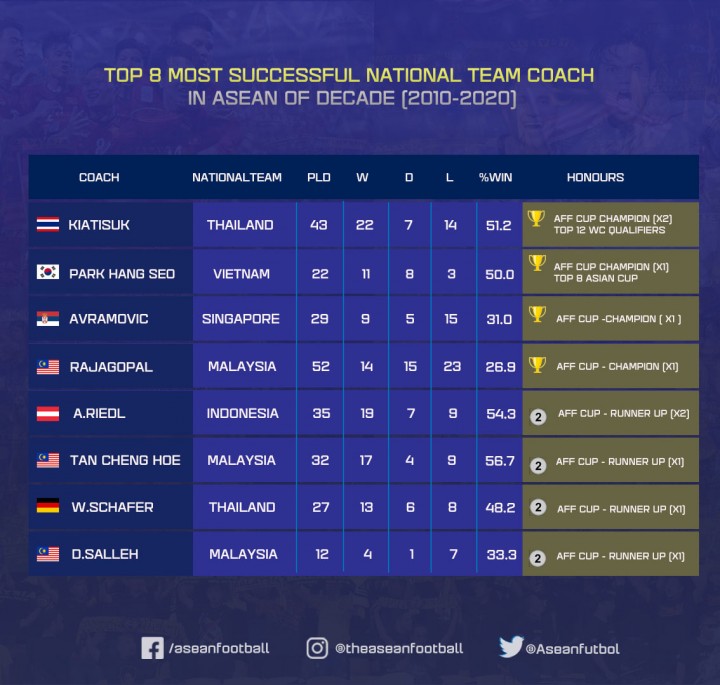 The remaining names respectively are coach Avramovic (Singapore), Rajagopal (Malaysia), A.Riedl (Indonesia), Tan Cheng Hoe (Malaysia), W. Sasfer (Thailand), D. Salleh (Malaysia). In particular, the current captain of Harimau Tan Cheng Heo impressed with a winning rate of up to 56.7%.