Heerenveen officially sent a proposal to Hanoi FC about the future of Doan Van Hau
Author: Nick Cassidy
11:00 | 11/05/2020
SC Heerenveen has sent an email to the Hanoi Club asking for an extension of the contract with Doan Van Hau, representatives of the two sides will have an official negotiation next week.
After a period of consideration of the situation, SC Heerenveen officially sent an offer  about the contract extention with Doan Van Hau on May 9. The Dutch club wants a negotiation to close the deal with the Hanoi club next week.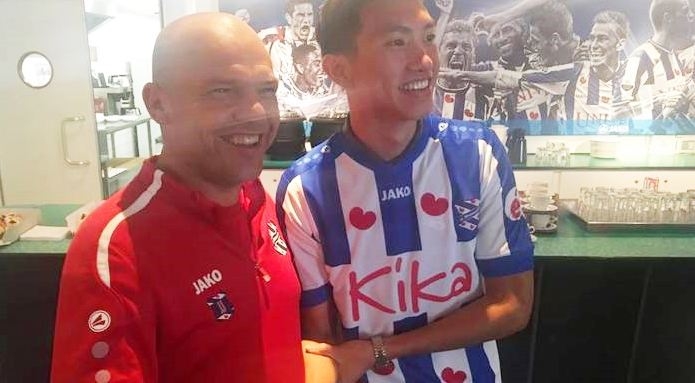 Van Hau joined Heerenveen in September 2019, the contract between the two parties is valid until the end of June 2020. During his time here, the Vietnamese defender only played for 4 minutes in the Dutch Cup, and mostly played for the Heerenveen youth team. However, the progress of this player is what coach Johnny Jansen and the leaders saw and wanted to give Hau another chance.
Van Hau has made a comprehensive progress from playing football, speed and fitness. Coach Jansen also highly appreciates the defender's efforts in improving English skills. With the departure of a series of pillars, Doan Van Hau's chance of competing for the first place of interest is very clear.
Coach Jansen himself admitted that the team misjudged Van Hau's case. The 45-year-old strategist shared with Omrop Frysland on May 7:
"To be honest, maybe we misjudged, a player from Vietnam to the Netherlands needs more time to adapt. You have to go a longer way. But Van Hau is on the right track and moving forward, closer to getting a place in the squad. He took a lot of time to work for the national team last time. Moreover, when he joined the team, the Dutch league also started. "
On April 23, technical director Garry Hamstra and coach Jansen also had a private meeting with Doan Van Hau to discuss. Defender 21 of course wants to continue to play for the Dutch team. Financial issues will be considered by the Dutch team and sent to the Hanoi club yesterday.
Despite a crisis in the middle position when 5 in 6 defenders were injured, the Hanoi club still wants to create conditions for Van Hau to continue his journey in Europe. Coach Chu Dinh Nghiem said that the Capital team has no plan to call this player back.
>>> Doan Van Hau: Honestly, I do not want to return to Vietnam right now