Cong Phuong's coach: 'Ho Chi Minh City wanted to sack me long time ago'
Author: Amelia
09:20 | 27/07/2020
Sharing with the Korean media, Coach Chung Hae-seong revealed the hidden sides and the real reason for breaking up HCMC club.
As previously reported, after the 3-0 loss to Hanoi FC, coach Chung Hae Seong no longer led the HCMC club in V-League 2020. Instead, chairman Nguyen Huu Thang will replace him to lead the team for the rest of the season.
This is such unexpected decision because coach Chung Hae Seong still did his job well when Ho Chi Minh City was still in the top 8 of the tournament.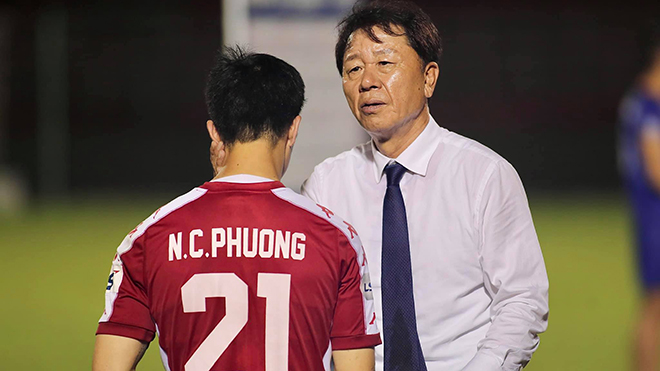 Recently, coach Chung Hae Seong revealed the real reason with Yonhap why he broke up with the HCMC club:
"The team leaders have prepared for my dismissal in advance. Some of the players brought in by the team leaders made mistakes in some matches, and they took that out to blame me. The players have performed unexpectedly in the last two matches.
The club side told me that I had to take step back. They want me to be technical director. However, I refused because I wanted to help the club focus for the rest of the season. "
In addition, the Korean strategist also revealed that the management of the team greatly interfered with his coaching work. That is the main reason why he broke up with Ho Chi Minh City:
"In the V.League, even when the team is having a coach, the bosses or the president often sit on the coaching bench to direct. I promised I would never let that happen. That is the reason I want to leave.
"My current contract last 2 years. Since I have 17 months left in the contract, I have offered to receive 50% of my salary for the rest of the signed contract. I have experience in this, and I will return to Korea after I've settled it. "