Assistant coach of Ho Chi Minh City: 'No need to play, give the trophy'
Author: Amelia
16:00 | 25/07/2020
Ho Chi Minh City assistant coach Yang Jae-mo got angry with the referees who controlled the match between Ho Chi Minh City and Hanoi.
In the 11th round of the 2020 V.League, the Ho Chi Minh City club was thrashed 0-3 by Hanoi FC at Thong Nhat Stadium.
However, the highlight of this match is the controversial decision of the referee Tran Van Trong.
Cong Phuong and his teammates reacted harshly when Tran Van Trong refused to give a penalty for Ho Chi Minh City, although the Hanoi player touched the ball twice in the penalty area. The decision of the referee has contributed to changing the outcome of the match.
After the match ended, the members of the HCM coaching staff could not keep calm and chased the referee to protest. Assistant Yang Jae Mo shouted, " No need to play, give the trophy ".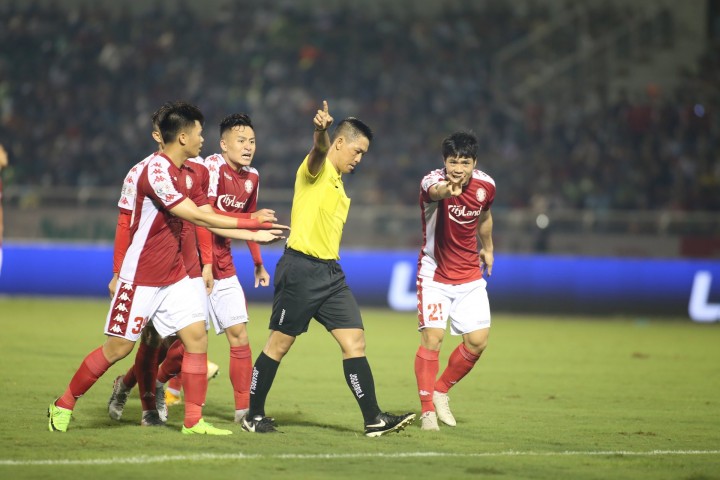 Coach Chung Hae Seong said, "If I am the referee, I cannot leave the pitch because I will feel very embarrassed when the game attracts a lot of spectators and reporters to the field.But he still left the field normally as a nothing happened. Was he happy with what happened? 20 thousand spectators bought tickets to the pitch and then witnessed what happened, it was not worth it."
Information from the Ho Chi Minh City Club said that the leader of the Vietnam Football Confederation admitted there was a mistake in the decisions of the arbitration team, affecting the result of the Ho Chi Minh City lost 0-3 to Hanoi.
It is expected that on July 27, Ho Chi Minh City Club will send an official document to the Vietnam Football Federation to reflect the work of the arbitration team and to propose to change the Head of the arbitration committee VFF Duong Van Hien.